Primary Program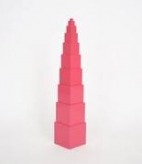 Our program for children from ages 3 through age 6 follows the educational philosophy and method of Dr. Maria Montessori.

The objectives of the program are:
To prepare a learning environment, which helps the children achieve their fullest potential and mental ability;

To provide a model environment from which parents may draw new ways of enhancing the child's growth at home;

To offer the child the experience of working with materials in a setting of free choice, order, respect, and care of self.
The environment is carefully prepared to meet the child's learning needs.

The child uses materials designed to assist growth in practical life, the development of the senses, languages, mathematics, music, art, science, and geography.
---
---
Elementary Program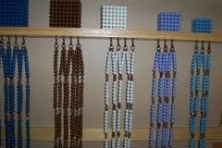 Our elementary program is designed for children from 6 through 12 years of age who have attended Montessori programs during their preschool years or whose parents choose to continue their education with academics based on the Montessori method.

Some key characteristics of the elementary program are:
Active hands-on learning

Sequential developmentally appropriate teaching materials

Individual educational programs

Impressionistic lessons and dramatic stories that inspire the child's imagination and create a structure for further study

Exploration and research into areas of interest

Character development, community building and conflict resolution
---