About Us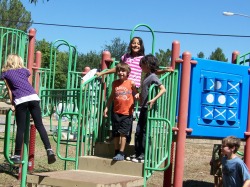 Founded in 1998, Patagonia Montessori Elementary School, Inc. is an Arizona nonprofit corporation and public charter school. We provide instruction for children from K-8th grade and private schooling for preschool. Our school bases its curriculum development, methodology, and philosophy on the work of Dr. Maria Montessori.

Through her observations of and work with children, Dr. Montessori discovered children's remarkable, almost effortless, ability to absorb knowledge from their surroundings. In essence, children teach themselves. This simple and profound truth inspired Montessori's lifelong pursuit of educational reform, curriculum development, methodology, psychology, teaching and teacher training- all based on her dedication to further the natural self-creating process of the child.

Much of the educational equipment found today in the Montessori classroom was developed by Maria Montessori nearly 100 years ago. This includes hands-on mathematic materials, phonetic reading systems, and a wide variety of materials and experiences to develop the child's sensory perceptions and refine his/her sense awareness. Many exercises are designed to allow even young children to practice skills they would need for daily living and self-help. Materials illustrating principles of geography, zoology, botany, and archaeology nurture the child's avid interest in the real world; all of these areas are explored with concrete objects, tactile experiments, collection, classification and identification. This is reality based purposeful "work" – creative work designed to develop mental and manual dexterity and equip children with the tools for a lifetime of creative learning.

Our main goal at Patagonia Montessori Schools is to provide a rich, warm, individualized, developmentally sound environment, promoting appreciation and respect for self and others, independence and optimum scholastic achievement. We wish to also collaborate with you, the parents, in a supportive role in order to facilitate a unified approach to your child's growth and development.

---